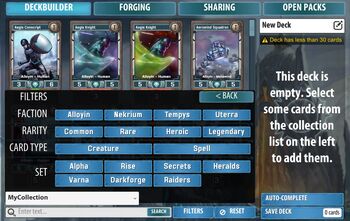 Players can create decks using the Deck Builder tool. It is located in the Collection tab, which is found along the top edge of the main screen. Once in the Deck Builder players can filter cards by various attributes then add them to their deck by dragging and dropping. Players start out with a limited number of decks slots but additional slots can be purchased for 280

Gold: Used for buying card packs, event tickets and other in game items.
or 25,000

Silver: Used for forging cards and buying some store items.
. Purchasing
Preconstructed Decks
will also increase the number of available decks slots players have.
Ad blocker interference detected!
Wikia is a free-to-use site that makes money from advertising. We have a modified experience for viewers using ad blockers

Wikia is not accessible if you've made further modifications. Remove the custom ad blocker rule(s) and the page will load as expected.